ICS Server Installation Tutorial
The ICS Server Installer will install the ICS application comprised of a .Net Core service that hosts its own webserver. This installation should be performed on a server that is accessible to the IBM Cognos Analytics servers and may be installed on an IBM Cognos Analytics server if desired. The IBM Cognos Analytics environment should be running during the ICS Server installation.
Step 1. Click the "Next" button.
Select Next to start the installation process steps.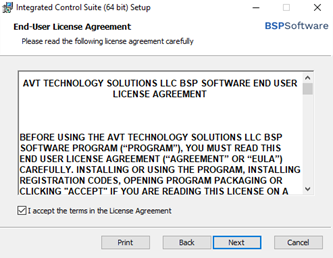 Step 2. Accept License Agreement.
Accept and review the End User License Agreement. Choose "I accept the items in the License Agreement"
Step 3. Select an installation directory to install the Integrated Control Suite™ server components.
Enter the start menu name you prefer.
Step 4. Enter your preferred service name and port number.
The service name is the name that will show up under Services control panel.
Change the listening port to an available port on the server.
Step 5. Installation
Installs the server components.
Step 6. Finish Setup
Return to the install dialog and click "Finish".